Rich history of
dedication & peace
From Idea to Reality
Dr. Henry J. Moore of Islington, Ontario conceived the idea of a garden on an international border where people could share interests and celebrate friendship in 1928. A year later, he proposed the idea and the National Association of Gardeners who approved the plan for the International Peace Garden. The group decided that the site for the garden should be near the geographical center of North America, and approved the current site with a dedication on July 14, 1932. 50,000 individuals traveled from all over the United States and Canada to witness the groundbreaking and dedication ceremony.
Two flag poles fluttered with the Stars and Stripes and the Union Jack.
Operations Have Begun
Manitoba donated 1451 acres and North Dakota purchased and donated 888 acres to the garden along the international boundary line. The International Peace Garden established its organizational structure and hired a landscape architect from Minneapolis who began turning ideas into reality. By 1934 operations were well underway and the Civilian Conservation Corp descended upon the area to perform the physical labor of turning the prairie and forestland into a garden to celebrate peace.
Flourished Through Hard Times
The IPG was born in the midst of the great world depression and followed by World War II. Despite long bouts of economic depression and world wars, the garden continued to flourish and shine as a beacon reminding citizens that friendship between countries was not only possible – but could continue to grow.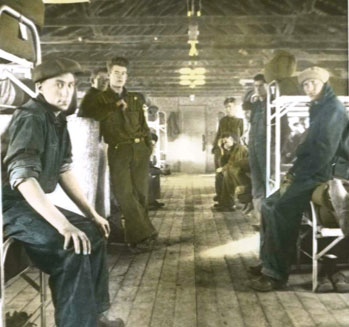 Further Development & Partnerships
The first buildings constructed on the site were the barracks that housed the CCC workers as they worked to create the garden. The Historic Lodge was constructed after the barracks and still serves as a monument to early times and used for a variety of IPG events today.
Floral Clock
One of the most iconic features at the IPG is the floral clock. Donated by Bulova in 1964, the clock is a duplicate of the original Bulova Floral Clock in Berne, Switzerland. The 18′ diameter clock face includes more than 2000 annual flowers.
Incredibly Beautiful Structures
While there are more than 200 structures within the boundaries of the Peace Garden, the only building on the Canadian side of the garden is the Willis Pavilion, built in 1967 as part of the Canadian Centennial Project. The most notable structure at the IPG is the Peace Chapel. Built in 1968, it is a beautiful stone structure that includes imported French colored glass panels. The Chapel is constructed from Manitoba limestone and inscribed with quotes of peace from international leaders.
The Future is Bright
Celebrations of peace and cooperation continue at the International Peace Garden, with unique installations like the Carillion Bells, the Hands of Peace sculpture, and the 9/11 Memorial.
Each of these projects was a gift from generous organizations that continue to support the vision of the garden's original founders.