More Than Peace
Grows Here
WELCOME TO THE INTERNATIONAL PEACE GARDEN
Nestled in the Turtle Mountains is a garden. A celebration of peace, a living monument to the ideals of friendship and cooperation among nations. Acres of uninterrupted prairie, forests and radiant floral gardens are defined by nature, not borders.
Things To Do
Experience the Peace Gardens all year by visiting these featured attractions.
The Conservatory, along with the cacti & succulent collection, is closed to the public as we expand our new space. Opening later  2023.
Sunken Garden
IPG Picnic 400x284
IPG InterpretiveCenter 400x284
IPG Images GuidedTours 400x284
IPG HistoricLodge 400x284
IPG Hiking 400x284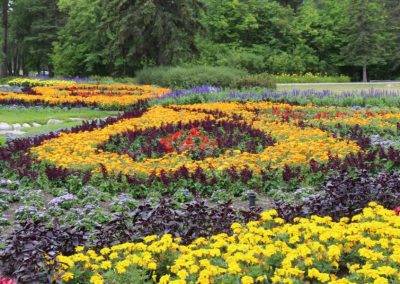 IPG FormalGardens 400x284
IPG FloralClock 400x284
IPG Feature PeaceChapel 1 400x284
IPG Feature GiftShop 400x284
IPG Canoe 400x284
IPG Cain 400x284
IPG Cafe 400x284
IPG 911Memorial 400x284
FR10 400x284
CARILLON BELL TOWER Photo Credit Ken Lund 400x284
NOTICE TO VISITORS
The cacti & succulent Conservatory are closed to the public.
We have begun construction and expansion of The Conservatory and the cacti and succulent display will be closed to the public and off-display until early 2023.
The Garden is open 8am to 8pm daily
The Gift Shop is open 10AM – 5:30PM, the Café is currently closed for the season.
Daily off-season admission costs are $15. Annual membership is $40 (good for 12 months).
You may purchase memberships online, pay at the gate, or stop in the admin office.
Join the Worker Bees
Volunteer at the International Peace Garden
We are looking for Worker Bees of all ages and abilities as our volunteer opportunities are wide-ranging and accomodating for all. We ask that kids under the age of 16 be accompanied by a parent or adult. We also have opportunities for group workdays and individual hours of service every day of the week. Worker Bees that contribute 6 or more hours of service are also eligible for additional incentives!